May 18, 2021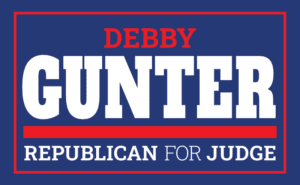 Debby Gunter has announced her candidacy for Judge of the 241st District Court. Gunter has practiced law in Tyler for over two decades and has extensive litigation experience in both state and federal court. She has worked on hundreds of cases in different courts throughout the East Texas area.
"I'm running for this position because I'm convinced that every person should be allowed the opportunity to come before a fair, impartial judge who will hear both sides of the matter before making any decision," Gunter said. "I have great respect for the judicial system, and I believe that when experienced, hardworking, servant-hearted judges are elected, the entire community benefits."
Gunter was born and raised in Smith County. She earned her bachelor's degree from Texas Tech University and her law degree from The University of Houston Law Center.
Gunter returned home to Tyler after graduating from law school and has practiced law in Tyler for the past 21 years. Over this period of time, she has done everything from serving as a prosecutor to protecting the property of business owners through patent litigation. She is currently a partner at Findlay Craft, P.C. in Tyler, where she handles mostly complex civil litigation cases.
In addition to a wide variety of legal experience, Gunter is a committed servant leader who believes in giving back to the community. She has served on the boards for many organizations, including the Children's Advocacy Center of Smith County, Leadership Tyler, the Women's Fund, and the Alzheimer's Alliance. She also has a heart for children, donating thousands of hours in pro-bono representation of infants and children in Smith County courts.
She is active in the local bar, having served on the Board of Directors for the Smith County Young Lawyers and the Smith County Bar Association. Gunter is currently a member of the Board of Directors for the Smith County Bar Foundation. Her exemplary reputation as a lawyer has been recognized by her peers. Gunter has received both the Smith County Young Lawyer of the Year award and the Smith County Bar Award of Excellence.
Gunter holds strong conservative values and recognizes that a judge's role is to apply the law as it is written. Because she has had the opportunity to practice a wide variety of both criminal and civil law, she understands the importance of having an impartial judge who will hear both sides of every case and create an environment of respect for everyone in the courtroom – plaintiff or defendant, victim or accused.
She is married to Tyler native Eric Gunter, who works as a registered nurse. The couple recently celebrated 26 years of marriage. They live in Tyler with their son, Cole, and golden retriever, Buck. They attend Green Acres Baptist Church.
Gunter is hosting a campaign kickoff event this Thursday evening at Hollytree Country Club.